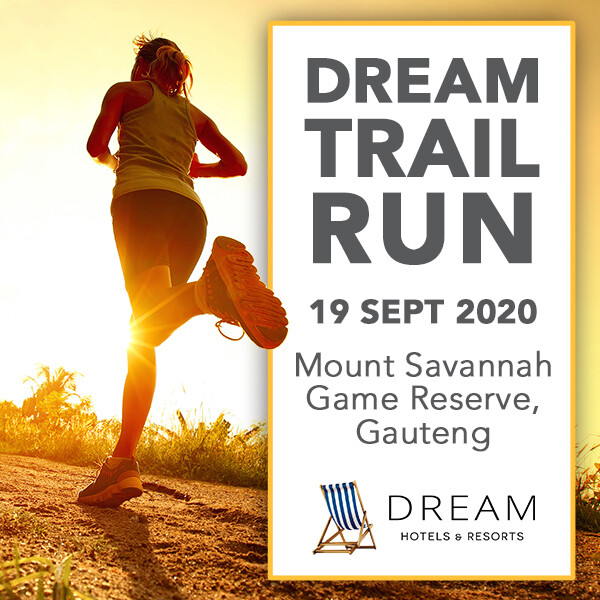 Dream Resorts Trail run - Gauteng - 19 September 2020
SKU 001
Product Details
Although the farm operates as a functional trail venue, for one day, we are hand building trails through the Mount Savannah Game Farm,situated in the heart of the Cradle of Humankind. This trail will offer brand new scenery, an abundance of game, hand built trails and on top of that a day filled with fun for the whole family. 5km, 10km and 15km distances are available, with a 2km fun run for the kids. Entries are limited. NO ENTRIES AVAILABLE ON THE DAY
Our booking system enables runners to submit times allowing us to seed them into batches ensuring that there is never a large gathering at the venue at any one time. All COVID protocols are in place to screen runners and walkers upon entry, as well as trail safety measures to ensure that you can enjoy your time out on the trails in a secure way. However your safety is as much your responsibility as it is ours. Remember to wear your mask at all times and practice social distancing at all times. Do not run if you're feeling sick, if you've tested positive, or if you've come into contact with someone who has tested positive with COVID in the last 14 days.
How it will work:
The routes will follow well maintained, jeep track paths catering for social runners and competitive athletes alike. The routes cover spectacular scenery with an abundance of game and will suit all types of fitness levels as well as your budget!!
Runners will be able to book a slot on the day, and they will be batched based on the times they submit upon registration. Start times will be communicated the day prior to the race. To avoid gatherings please don't arrive too early, or too late :)
To limit contact, and comply with COVID regulations, unfortunately NO WATER POINTS will be provided along routes. Therefore it is essential for runners to bring hydration and snacks based on their fitness levels. Water and Energade will be provided at the finish line.
Start times: Remember, final batch times will be communicated to you via mail on the day prior to the activity:
- 15km slots start at 7:15am
- 10km slots start at 7:45am
- 5km slots start at 8:45am
- 2km fun run will take place at 9:45am
Prizes:
Due to COVID-19, no prizes will be awarded on the day. Apologies for any inconvenience caused.
Boerie rolls and coffee will be served at the finish line. These will be limited so please ensure you purchase meals upon entry. Runners are welcome to bring picnic baskets along and spend an afternoon under the African skies with their families.
A huge thanks goes out to DREAM HOTELS AND RESORTS for partnering up with us, and providing an opportunity to bring this experience to you. For more information on the spectacular venues offered by Dream Resorts and Hotels visit: www.dreamresorts.co.za

Accommodation:
If you'd like to take advantage of this opportunity to get out of the city, and spend a weekend at the farm, please contact mountsavannah@dreamresorts.co.za or info@danielsrust.co.za
The Rules and Regulations (Things that might get you disqualified)
- Your temperature will be tested on entering the venue. If your temperature exceeds COVID compliance (38 degrees), entry will be prohibited.
- Do not attend if you are sick, have tested positive, or if you have been in contact with someone who has tested positive in the last 14 days.
- Wear your face mask at all times
- Practice social distancing at all times (gatherings prohibited)
- Arrive 15 minutes before your time slot. Time slots will be communicated on the day prior to the trail run via mail. Runners will be seeded into batches of 20-25 runners. Batches will go off every 15 minutes, restricting congestion along the route.
- No one will be allowed to run/walk the trails without a booking made in advance for that specific time slot
- All late arrivals will result in the forfeiture of the pre-set time slot. No refunds will be provided.
- A COVID-compliant medic will be on site to assist with any injuries/ illnesses as a result from the trail run. Please note, they will not be able to treat patients experiencing COVID symptoms.
- In order to create a safe and enjoyable venue for everyone who has entered, it is very important that all the Rules & Regulations strictly be adhered to when entering the Trails. - - - Failure to adhere to the Rules & Regulations will result in the forfeiture of the booked time slot, run and refund of entry
- The venue, trail operators, employees and companies involved will NOT be held liable for any injury, sickness, theft or loss occurred before, during or after entering the venue
Disclaimer
If you are uncomfortable with any gathering of any kind, please rather stay away and keep safe in your own environment.
Participants enter the Dream Trail at their own risk.
2020 has turned out to be a very difficult and different year for everybody. Our intention is to give people an opportunity to remain fit and healthy in a safe environment.
Save this product for later
For any queries around our COVID-19 compliance, safety precautions etc, contact us